Gas-X Gets Rid of Gas Fast
Gas-X is the #1 Doctor Recommended OTC Anti-Gas product* because it works in minutes to help ease the pain of gas, pressure, and bloating. Find out how Gas-X can help you get relief—fast!


Gas-X contains simethicone – the #1 doctor-recommended OTC ingredient for fast relief of gas and its symptoms, including pressure, abdominal bloating, and discomfort. This is why Gas-X is the most trusted gas relief brand.**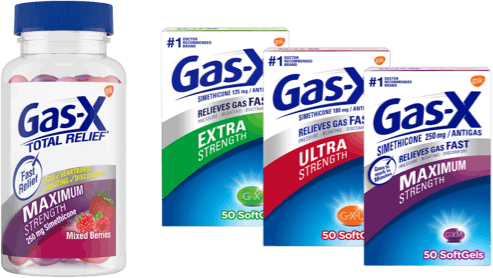 Committed to Providing Relief When You Need It Most.
Take Gas-X when you feel uncomfortable due to common gas and bloating complaints.
Gas-X products are available in both softgels and chewables.
Visit our sister brands for more ways to improve your digestive health.

Preparation H, #1 Doctor Recommended Brand, the brand doctors recommend the most.

TUMS is America's #1 antacid brand for fast heartburn relief.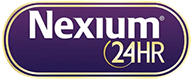 Just one pill a day gives you 24-hour protection° from frequent heartburn.

Benefiber is a plant-based prebiotic fiber supplement. Most products are clear and taste-free.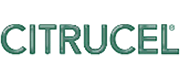 Citrucel is a clinically proven fiber therapy that gently† helps to relieve occasional constipation.

Trusted treatment for constipation for over 100 years. ex-lax provides gentle, dependable overnight relief.

Perdium relieves occasional constipation. Formulated for dependable overnight relief.
alli is the only FDA-approved over-the-counter weight loss aid that can help jumpstart your weight loss journey.

Gaviscon provides powerful heartburn relief in an easy to take liquid.