Gas-X
®

Ultra Strength Softgels

GAS-X
®

ULTRA STRENGTH SOFTGELS

Simethicone 180 mg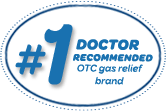 Ultra Strength Gas-X® offers effective relief for gas and bloating. It's fast-acting and comes in an easy-to-swallow softgel coating, so you can get relief when you need it most.
Available in: 18 and 50 ct
Uses
Use for the relief of pressure and bloating commonly referred to as gas.

Directions

Adults and children 12 years or older: swallow with water 1 or 2 softgels as needed after meals and at bedtime. Do not exceed 2 softgels in 24 hours except under the advice and supervision of a physician.

Warnings

Keep out of reach of children.