Gas-X
®

Extra Strength Chewables

GAS-X
®

EXTRA STRENGTH CHEWABLES

Simethicone 125 mg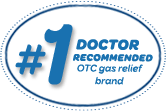 These chewable tablets come in two great flavors, both of which make short work of gas. Your tongue won't realize you're taking the #1 doctor recommended ingredient for fast gas relief among OTC brands. But the rest of your digestive tract sure will.
Uses
Use for the relief of pressure, bloating, and fullness commonly referred to as gas.

Directions

Adults and children 12 years or older: chew 1 or 2 tablets as needed after meals and at bedtime. Do not exceed 4 tablets in 24 hours except under the advice and supervision of a physician.

Warnings

Keep out of reach of children.